About us
Professional Chestnuts Products Provider in China Since 1995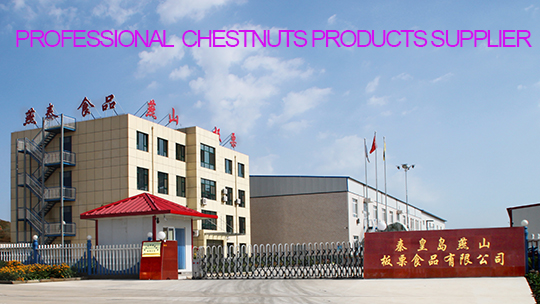 Qinhuangdao Yanshan Chestnut Co., Ltd. locates in Funing District of eastern section of Yanshan Mountain. With the starting point of Great Wall-Shanhaiguan Pass to its east, Bohai Sea southward and Yanshan Mountain northward, Funing District is the only chestnut region linked by Yanshan and Bohai. With convenient transportation and excellent position, our company is 40 kilometers away from Qinhuangdao Port and Qinhuangdao Airport, 260 kilometers away from Tianjin Xingang and Beijing Capital Airport. There are high-speed rails and highway running across the area, like Beijing to Qinhuangdao Beijing to Harbin railway and coastal highway etc.
Qinhuangdao Yanshan Chestnut Co.,Ltd. found in1995, is a private joint-stock enterprise with existing own assets of USD 13 million. Our company has 4000-ton capacity of chestnut fresh-keeping room and low-temperature storage and production facilities for serial chestnut products. We have 52 administers and technicians and more than 500 workers. We are mainly engaged in acquiring, storing, processing and marketing chestnuts products. The annual sales volume of chestnuts products is about 5,000 tons. Our main products are fresh chestnut, frozen roasted peeled chestnuts (IQF), ringent roasted chestnut, peeled roasted chestnut snack, chestnut paste, chestnut powder, frozen peach halves and sweet potato.
Since 2003, we passed the JAS organic chestnut cultivation base certification and organic chestnut processing base certification every year. We got Halal Certificate in 2009. Our brand "Tianyang"was identified as Hebei famous trademark in 2011. We was also evaluated as agricultural industrial production provincial leading enterprise in 2012. We got FCE-SID registration number of U.S.FDA in 2015 and USDA organic chestnuts certificates, and passed ISO9001:2008 certification and HACCP certification. We have been registered and recorded in the State Entry-Exit Inspection and Quarantine Bureau, and have the sovereignty for exporting and importing.
For years, our company subdivide the products through knowledge of market, and greatly enrich the product range so as to meet various consumer groups. At same time, we combine domestic sales with export. Since we started to produce frozen peeled chestnuts in 1998, we began to export product to Japan. Since 2001, we have established long-term cooperative relationships with 3 famous companies in Japan. Our chestnuts products sell well in countries and regions including Japan, Korea, Thailand, Malaysia, Singapore, Middle East, Taiwan and Hong Kong. We enjoy good reputation among our customers, and we honorably got excellent supplier certificates three times from Aeon, the largest retailer in Japan, in 2014, 2017 and 2019.
Our Aim: Quality casts brand; credibility weaves future. We cordially welcome the friends all over the world to visit our factory and join us for cooperation.